We're your mobile development partners
If your company has a complex project in mind, we can provide strategic consulting and a true development partnership to build and launch your next mobile project.

Here's some more information about what you can make with App Press.
Can I make an app for Android and iOS?
With your App Press account, you can create mobile apps for any iPad, iPhone and iPod touch running iOS 6.0 or later. You can also create Android apps for any phone or tablet running Android 2.2 or later.
Can App Press help with custom development?
After hundreds of successful mobile projects with hundreds of partners, we have collaboration on mobile work down to a science. Do you need a custom feature in your app? Our team is here to help. App Press can provide custom work for any mobile project.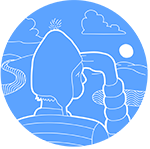 What happens after I publish my app?
Once your app is live in Apple and/or Google app stores, your App Press dashboard makes it easy to manage your app - scheduling push notifications, sending instant content updates, and tracking how your users are interacting with your app with analytics.
Can I purchase more bandwidth and storage?
Additional bandwidth and storage are available on demand. For Personal and Designer accounts, each additional 1 GB of bandwidth and storage costs $0.25. For Small Business and Enterprise accounts, each additional 1 GB of bandwidth and storage costs $0.14.